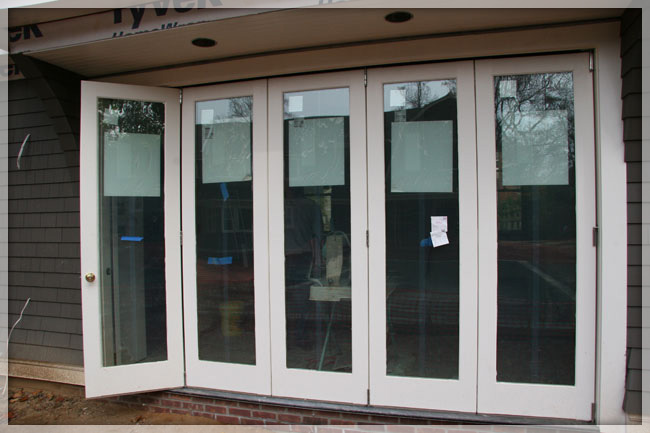 Patio doors – a great way to 'bring the outside in' and provide an attractive alternative to single doors or windows. They're typically found at the opening to the garden or patio, hence the name, although in some larger properties they are used as dividers between rooms.
The style, size, and finish you choose will affect the price of your door, so it's important to consider these factors when deciding the patio door style you want.
Types of Patio Doors
There are several different types of patio door which you can choose from to ensure both security and accessibility, whether they are to be installed as an entrance to a new extension, or within an existing divide between rooms.
French Doors
This style is equally at home as an exterior door or as a partition between rooms in larger homes. They are outward-opening double doors.They are made from UPVC (unplasticised polyvinyl chloride) – this is a durable building material used primarily for window sills, frames, and the construction of conservatory roofs. Depending on your budget, you can choose (at further cost) to increase the amount of glass in your French doors, reducing the amount of uPVC used.
In terms of security, many French doors pass the stringent PAS024 testing regulations, as they can feature multi-lock systems.
They also offer the option for opening one door at a time, making them a popular choice in adverse weather conditions or in situations where immediate access is the primary function.
Patio Doors (sliding)
This design of this type of door is a striking one, consisting of glass panes sliding along horizontal runners; sometimes in either direction; in order to facilitate access to and from the property.They're fantastic as a space-saving solution, as unlike French or Bi-Fold doors, they do not open into the outside space. Similarly, they can't be blown shut, which reduces the risk of accidental injury or unnecessary wear and tear.
Sliding patio doors fit well into wider divides and openings and can be constructed from aluminium for greater sizing options, allowing you to customise the ratio of aluminium to glass.
These days, you may be able to find sliding door options which allow for three or four individual panes on separate runners – this will increase the level of customisability you can apply to your installation.
Sliding patio doors feature multipoint locks with overlapping panels, which is an excellent security feature.
Bi-Folding Doors
As an alternative space saving option, and for wider access spaces, choosing to install bi-fold doors is a great way to open up your home. They open fully but can be a far more expensive choice than other styles of the same width and material/glass ratio.However, these doors offer the most comprehensive way to 'bring the outside in', so to speak. They sometimes benefit from an additional, single door which can swing open installed to the side of the main panels, as accessing the home through the main panelled parts is not always feasible.
Are Patio Doors Efficient?
There are several reasons why people opt for new patio doors, or even expanding an existing opening into a sliding door. Obviously one of the main reasons is the unobstructed view and additional daylight that these doors provide. Another convenient feature is that these doors are easy to operate and slide. Most of us go out onto the backyard with our hands full, whether it is a marinated steak or some gardening tools. When the patio door is properly installed it can be slid opened with a light push. Of course some people may see this as a detriment to security, but as you will see further down, there are plenty of features in modern patio doors that prevent a break-in into your home.
A sliding glass door is usually considered a single unit consisting of two-panel sections, one being fixed and one being operable. However, there are options for three and four-panel patio doors on the market today. Usually, patio doors can accommodate any standard or custom-sized openings up to 12 feet in width. Every patio door should come standard with a sliding screen door.
As we mentioned above, patio doors can be considered an oversize window, because they are manufactured and function in similar ways to most vinyl windows. When it comes to energy efficiency, they also rely on the same features that modern windows do. Just like new windows benefit from additional efficiency provided by Low-E coatings and gas fills, so do your patio doors.